So, we're in a tough spot. Well, in a decor kind of way.
Our house came with the original kitchen. People tend to think its "cute" and has a lot of character. To be totally honest, it is one of the reasons we bought the house - no one had done a bad ikea remodel (like a lot of the "flipped" houses in our neighborhood).
But, I hate the tile. Hate it.
Along with it being chipped, dingy, and with disgusting grout, the edge lip annoys me, the colors leave very little room for changing up the decor, and the windmills and dutch boys are so cheesy they should come with crackers.
We've come to the conclusion that we will most likely NOT be remodeling this house. We should really close off one entrance, cut a hole in two of the walls and open it up. Then we could get a full sized dishwasher and way more counter space - plus, maybe there would be a fridge we could get other than the one we have (it is literally the only stainless steel fridge that is short enough in the whole universe).
We'll stay here until the market goes back up (maybe 50 years?) and then hopefully find something with three bedrooms (two flats of course, we love living with bunni (grandma) upstairs)).
So, I'm trying to convince my husband to let me re-do the surface of the kitchen. Oh, and we're now on one income (yay), so we have to do it CHEAP.
To do?
* Re-do the counters
* Sand and paint the cabinets
* New hardware (including hinges) for the cabinets
* New sink and faucet
* New flooring
With a budget of about 1,000 bucks (like, 1,000 bucks MAX), this is what I think we could do. A good bit will come from Lowes Gift Cards, so it must come from there as well :)
This sink
for $199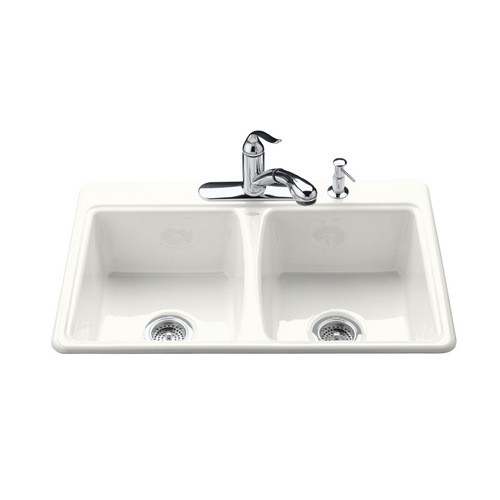 It is really the only one from lowes that is cast iron and will fit in the spot we have...but I worry that two small basins will make washing cookie sheets difficult. Will it?
With t
his counter top
(from ikea) $200
I mostly see undercounter sinks with pics of this...is this the best way to do it?
This faucet
$108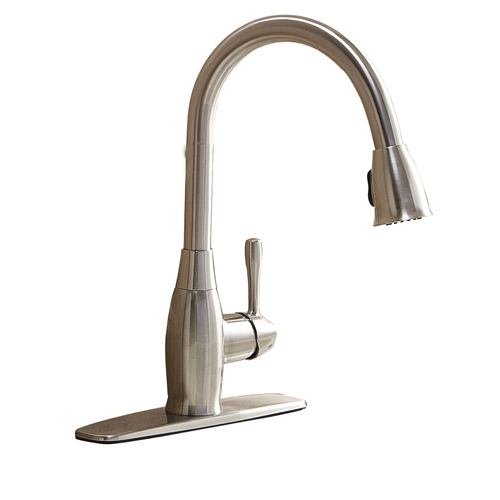 White Tile Backsplash
going all the way to the cabinets, not stopping halfway. $40 (at .33 cents a tile, its a bargain...but I have no idea how much the materials cost.
Then I truly would love to tear down the tile on the wall that the stove lives on and just re-sheetrock and paint. But, not sure how possible that will be. Tim thinks it will be a huge job...We're going to take down the backsplash tile first and see how that goes.
Now that I have this all down I can get final approval :)